Press Room
Luxurious Living At North Beach Asbury Park
ASBURY PARK, NJ – Imagine waking up to the sound of sea gulls and gazing out your window to marvel at the breathtaking sunrise over the ocean. Evenings are spent relaxing on your balcony, watching the waves crash along the shore. This vision comes to life for Steve Kass in his luxurious North Beach Asbury Park home.
A Rockland County, NY transplant, Steve found everything he could ever want at this unrivaled oceanfront community. "North Beach at Asbury Park offers us everything we could have asked for in terms of location, as well as home features and luxury," Steve said.
After visiting the community for the first time, Steve and his family knew they wanted to call North Beach their home. The Kass family quickly purchased a two-bedroom, two-bath home with an ocean view from 6th Avenue and Barcelona. They moved into their new home in 2008.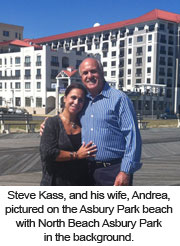 Among the community's many highlights, Steve is pleased by the varied age groups that reside at North Beach, as well as the tranquil setting it offers. He also loves the convenience of being able to walk to both the beach and the boardwalk. "I can even walk downtown!" he added.
In terms of amenities, Steve notes that the fitness center with cardio and weight-training equipment is phenomenal. "North Beach also offers an excellent on-site lobby attendant," he said. Other community amenities include a terrace room for parties, indoor parking, a spa pool with a sundeck overlooking the ocean and a private courtyard.
"We have a very friendly and respectful community," Steve said. "I would recommend North Beach Asbury Park to anyone who wants live at the beach in a luxurious environment."
North Beach is ideally located just north of the newly renovated Paramount Theatre, overlooking the famous Asbury Park boardwalk. The community is also convenient to the town's fine restaurants, shops and contemporary art galleries located along Cookman Avenue.
Asbury Park provides easy access to major highways including the Garden State Parkway. With NJ Transit rail service easily accessible to North Beach, Manhattan is a popular destination for residents.
The Marketing Directors Inc. is the marketing and exclusive sales agent for North Beach Asbury Park. For more information about North Beach, please call 732‑776‑6200.
«back to press