BARNEGAT, NJ – Calling all baby boomers! Pull out your vintage jeans and distressed tees and join Paramount Homes for a Rock N' Roll Extravaganza on Sunday, June 8th from 1-4pm at Escapes Ocean Breeze, Ocean County's premier active adult community. This event is free and open by reservation for adults 55+. Interested guests are encouraged to RSVP by June 4th to 609‑698‑5540.
The Rock N' Roll Extravaganza will be held at the Escapes Ocean Breeze Sales and Design office located at 32 Honeysuckle Drive in Manahawkin. Let loose to music most loved by the baby boomer generation, like Bon Jovi and Bruce Springsteen's greatest hits. There will also be live music by The Jersey SureCats – an exciting cover band featuring Jersey Shore themed Rock N' Roll dance hits. Attendees will also have the chance to meet the Escapes resident Ambassadors in a fun atmosphere while enjoying great food, beverages and raffles.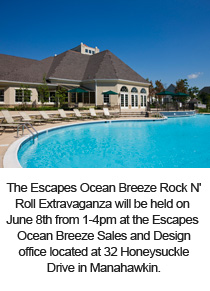 "Our sales this spring have been phenomenal and we wanted to have an event that would celebrate our success and welcome new homeowners to the community," said Jacqueline Urgo, President of The Marketing Directors Inc., Marketing and Exclusive Sales Agent for the community. "The Rock N' Roll Extravaganza is also a great opportunity for interested homebuyers to get acquainted with the Escapes Ocean Breeze community, and to experience our exciting and fun social activities and events."
Located in Barnegat, New Jersey, just miles from Long Beach Island, Phase II of this successful resort-inspired community has quickly become the area's hottest residential destination for the baby boomer generation with more than 65 percent of its newly opened Phase II home sites already sold. "However, fantastic purchasing opportunities still remain. In fact, we have just released a new selection of premium home sites that represent some of Phase II's finest opportunities to date," Urgo added.
Prospective buyers can build their dream home with the help of Paramount's professional design center and construction team. "You choose the finishes, Paramount deals with all the rest," Urgo said. Phase II homes start at $279,900 and offer up to 2,693 square feet of living space including 2 spacious bedrooms, 2 full baths and 2 car garages.
Residents also benefit from Escapes' superb amenities including a Lifestyle Pavilion, which is the social center of Escapes Ocean Breeze. In the resort inspired facility, residents can enjoy a state-of-the art fitness center, Grand Ballroom and a sauna. Movies are shown in a screening room with a 120-inch theater screen and stadium seating. There are rooms for card games and billiards, as well as both indoor and outdoor swimming pools. Tennis, basketball and bocce courts are also on‑site.
Located just three miles west off of Exit 63 of the Garden State Parkway on Route 72 in Stafford Township, Escapes Ocean Breeze is only 10 miles from the beaches, restaurants and marinas of Long Beach Island. There are dozens of shopping centers located on and near Route 72, including Stafford Park Shopping Center, which is only three miles from the community.
Interested homebuyers can visit Escapes Ocean Breeze Sunday thru Friday from 10am to 5pm.
The Marketing Directors Inc. is the marketing and exclusive sales agent for Escapes Ocean Breeze. For more information about Escapes Ocean Breeze, visit OceanBreezeNJ.com or call 609‑698‑5540.