ASBURY PARK, NJ – Remarkable water views, world-class amenities, year-round living and competitive pricing make the opportunity to own a luxurious condo at North Beach Asbury Park, Paramount Homes' award-winning oceanfront community nestled on the Jersey Shore, so enticing.
The picturesque seaside city of Asbury Park, which is fittingly dubbed the "Jewel of the Jersey Shore", has reinvigorated its proud past and reclaimed its standing as the entertainment mecca on the Jersey Shore. Asbury Park was also recently named one of NJ's top 10 beaches by the Asbury Park Press and the New Jersey Sea Grant Consortium/Richard Stockton College Coastal Research Center, giving North Beach Asbury Park an added edge with prospective homebuyers.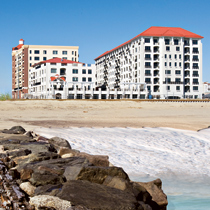 North Beach Asbury Park, the only true oceanfront community within Asbury Park offers a perfect balance of entertainment and relaxation for its residents. "It's an amazing town, and North Beach offers a one of a kind, maintenance-free lifestyle with beautiful homes and great amenities that buyers cannot find elsewhere along the Jersey Shore," says Jacqueline Urgo, President of the Marketing Directors, North Beach Asbury Park's Exclusive Sales and Marketing Agent.
North Beach is located near Asbury Park's renaissance, just north of the newly renovated Paramount Theatre and overlooks the famous Asbury Park boardwalk. It is also in close proximity to the town's fine restaurants, shops, live music and contemporary art galleries located along Cookman Avenue.
North Beach allows residents the luxury of taking a break from their busy lives while only having to turn a key. "Homeowners in search of year-round living or the perfect summer home are drawn to our oceanfront beach location and great amenities package," said Sharon Bloodgood, North Beach Sales Manager. "The best part is they can take advantage of all this without ever having to take care of the many chores that come with owning a home – like cleaning the pool, shoveling snow, washing sand off the deck or re-paving driveways."
Residents of North Beach enjoy a Mediterranean-style feel with a variety of community amenities including a terrace room for parties, an attended lobby to greet residents and their guests, a state-of-the-art fitness center, indoor parking, a spa pool with a sundeck and a private courtyard.
North Beach holds open houses every weekend. Come tour our newly decorated model home today. This model features 2 bedrooms and 2 full baths, with 1,400 sq. ft. of living space. The home also offers a large master suite with a walk-in closet, kitchen with granite countertops, large walk-in pantry, spacious laundry room and balcony with an ocean view. "With luxury homes priced from the mid $400's, North Beach offers an unparalleled value for homebuyers," Bloodgood added.
Asbury Park provides easy access to major highways including the Garden State Parkway. With NJ Transit rail service easily accessible to North Beach, Manhattan is a popular destination for residents.
The Marketing Directors Inc. is the marketing and exclusive sales agent for North Beach Asbury Park. For more information about North Beach, visit call 732‑776‑6200.