BARNEGAT, NJ – When it comes to resort-style living on the Jersey Shore, Escapes Ocean Breeze, Ocean County's premier active adult community in Manahawkin from award-winning homebuilder Paramount Homes, offers homebuyers a unique sense of community and belonging before they even move-in. New homeowners Chet and Linda can attest to this.
In searching for a new home, the couple wanted to be in a location that was close to their daughter and two grandsons. They also liked the fact that Escapes Ocean Breeze is close to beaches and the Barnegat dock, where they have spent many summer nights listening to the bands that played there.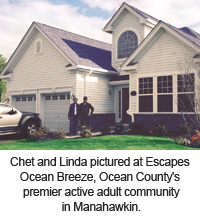 After initially visiting Escapes Ocean Breeze, Chet and Linda fell in love with the floor plans that were offered. "It was close to our family, and the location offers many opportunities to explore other parts of the Jersey coast line," Chet added.
The couple moved in on September 29th from New Egypt, New Jersey. "However, as a military family, we have lived at numerous addresses in the United States to include Hawaii and California," said Chet.
Over the past year, Chet and Linda were able to attend social events hosted by the Sales Office. "This provided us with an opportunity to meet some of the residents and begin to form friendships with many of them," said Chet. "Some of the men I met played softball and golf and since I like to participate in both, a common bond was easily established."
When the day came for Chet and Linda to move into their home, many of their new neighbors came to their house and volunteered to help them move. "We haven't met a single person here that hasn't gone out of their way to make us feel welcome and offered to help us in any way possible," said Chet. "One neighbor even invited us to their house for homemade pizza before we moved in. Everyone there went out of their way to make us feel comfortable and welcome."
Although the one-story home they chose was smaller than the one they left behind in New Egypt, living space and storage was not an issue. "We were the first ones to choose the extended garage option in lieu of a basement to store some of our belongings," said Chet. "The office space is roomy and provides space for the house computer equipment and a quiet place to perform the household business functions."
The couple loves their home's open floor plan in the common areas and the size of the bedrooms. They also found the fitness center to be a great amenity. "We also plan on using the Lifestyle Pavilion and indoor/outdoor pools, and take advantage of the many social events that are sponsored by the various committees that are here," said Chet.
In addition to the above amenities, residents also enjoy a Grand Ballroom and a sauna. Movies are shown in a screening room with a 120-inch theater screen and stadium seating. There are rooms for card games and billiards, as well as tennis, basketball and bocce courts.
For prospective homebuyers, Chet says the Escapes Ocean Breeze Sales Office has been, and continues to be, very helpful. "Everyone involved did all that they could to make our home perfect for us to occupy," he added.
Nestled in Barnegat, New Jersey, just miles from Long Beach Island, Phase II of this successful resort-inspired community has quickly become the area's hottest residential destination for the baby boomer generation with more than 65 percent of its newly opened Phase II home sites already sold. Approximately 30 families have already moved in. Phase III is expected to be released next year.
Located just three miles west off of Exit 63 of the Garden State Parkway on Route 72 in Stafford Township, Escapes Ocean Breeze is only 10 miles from the beaches, restaurants and marinas of Long Beach Island. There are dozens of shopping centers located on and near Route 72, including Stafford Park Shopping Center, which is only three miles from the community.
Interested homebuyers can visit Escapes Ocean Breeze Sunday thru Friday from 10am to 5pm.
The Marketing Directors Inc. is the marketing and exclusive sales agent for Escapes Ocean Breeze. For more information about Escapes Ocean Breeze, visit OceanBreezeNJ.com or call 609‑698‑5540.