The free event will take place at Escapes Ocean Breeze, a 55+ community in Barnegat
BARNEGAT, NJ – The team at Paramount Homes, premier builder of homes in Monmouth and Ocean Counties, is inviting the community to join them for their First Annual Classic Car Show and Music Festival on Saturday, October 24 from 12 p.m. to 4 p.m. The event will take place at Escapes Ocean Breeze, a luxury active adult community in Barnegat.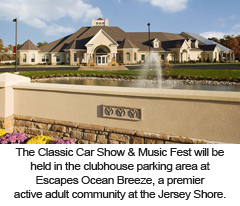 "We're excited to invite the public to this free event where we'll have antique cars on display from the Vintage Auto Museum of New Jersey," said Jacqueline Urgo, President of The Marketing Directors Inc., Marketing and Exclusive Sales Agent for the community. Attendees will also have the chance to buy tickets for the museum's raffle for a Mustang, which will take place on November 1. Residents and visitors are invited to bring their own chairs and tables and enjoy local cuisine from the Cajun Jax and Shorty's food trucks, which will be serving up barbecue, fried shrimp, sausage and peppers and other dishes. The event will also feature live entertainment from the Jersey SureCats, a rock 'n' roll dance band and local favorite.
The Classic Car Show and Music Fest is being planned by NFC Amenity Management, Escape Ocean Breeze's lifestyle amenity provider. NFC is the largest national provider of full service amenity management services, specializing in the design, development, and on-site management of active adult communities. In recent months, NFC has worked to transform the lifestyle at Escape Ocean Breeze by hosting community-wide events, including but not limited to farmers markets, a showing of Tony Bennett and Lady Gaga's Cheek to Cheek and a poolside concert. As part of the lifestyle overhaul, NFC also created clubs that focus around activities such as hiking, biking, painting, reading and golfing.
"The car show is a great opportunity for interested homebuyers to experience what life is like at Escapes Ocean Breeze," said Urgo. "Attendees will have the chance to see the community first-hand, meet potential new neighbors and get a feeling for the fun, breezy lifestyle that residents enjoy year-round." In the upcoming months, NFC plans to host bus trips to New York City and new fitness classes for residents at the active adult community.
"We look forward to welcoming the public to Escapes Ocean Breeze for the Classic Car Show and Music Fest," added Urgo. "We know it will be a fun time for all."
The homes at Escapes Ocean Breeze offer up to 2,693 square feet of living space including two bedrooms, two baths and two-car garages. Pricing begins in the low $300s. The Escapes Ocean Breeze Information Center is open daily from 10 am to 5 pm. The Marketing Directors Inc. is the marketing and exclusive sales agent for Escapes Ocean Breeze. For more information about Escapes Ocean Breeze, visit OceanBreezeNJ.com or call 609‑698‑5540.