BARNEGAT, NJ – Escapes Ocean Breeze, a 55+ community in Barnegat, drew a crowd of vintage car enthusiasts at its First Annual Classic Car Show and Music Festival on Saturday, October 24th. The festival, which featured 70 classic cars and had 200 attendees, was part of the lifestyle transformation that's bringing exciting events to the active adult community year‑round.
"The Classic Car Show and Music Festival was well-attended by both residents, future homeowners and the local community. This event was the crowning success of a well planned lifestyle transformation," said Jacqueline Urgo, President of The Marketing Directors Inc., Marketing and Exclusive Sales Agent for Escapes Ocean Breeze.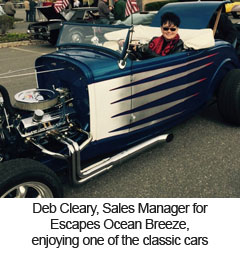 "The cars on display were from the Vintage Auto Museum of New Jersey and local clubs, the cuisine was from Cajun Jax and Shorty's food trucks and there was live entertainment from the Jersey SureCats." Attendees were also able to purchase tickets for the museum's raffle for the chance to win a Mustang.
The Classic Car Show and Music Festival was part of the lifestyle renaissance taking place at Escapes Ocean Breeze. This overhaul has brought events like weekly farmers markets, rock concert pool parties, drive-in movies and gourmet food tastings to the luxury 55+ community.
"NFC Amenity Management continues to help us create a vibrant community that residents are truly enjoying," said Urgo. "As a result, several attendees made the decision to live and purchase in our community. This is just the beginning of an exciting time for Escapes Ocean Breeze." In the upcoming months, residents will enjoy a community Thanksgiving dinner, holiday parties, ladies' shopping night, an art show, bus trips to New York City, movie nights and health and fitness classes.
In addition to these events, residents also enjoy clubs that focus on activities such as hiking, biking, painting, reading and golfing. A large clubhouse featuring a grand salon, screening room, pool, fitness center and lifestyle pavilion serves as the community's centerpiece and gathering place for events and activities. An on-site lifestyle director works with residents to plan activities that pique their interests and allow them to enjoy the community's many amenities.
"Escapes Ocean Breeze is perfectly designed to bring the community together with exciting events," added Urgo. "We invite prospective homebuyers to come experience the dynamic lifestyle that residents are enjoying."
Pricing begins in the low $300s. The homes at Escapes Ocean Breeze offer up to 2,693 square feet of living space including two bedrooms, two baths and two-car garages. The Escapes Ocean Breeze Information Center is open daily from 10 am to 5 pm. The Marketing Directors Inc. is the marketing and exclusive sales agent for Escapes Ocean Breeze. For more information about Escapes Ocean Breeze, visit OceanBreezeNJ.com or call 609.698.5540.
«back to press