BARNEGAT, NJ – Hundreds of shoppers checked off their holiday lists last month at the First Annual Holiday Market at Escapes Ocean Breeze, a 55+ community by Paramount Homes. The market, which took place on November 30th, was part of a lifestyle transformation that's bringing exciting events to the homeowners at Escapes Ocean Breeze.
""We had over 30 artists and vendors in attendance at the Holiday Market," said Jacqueline Urgo, President of The Marketing Directors Inc., Marketing and Exclusive Sales Agent for Escapes Ocean Breeze. "Both homeowners and local residents came to get a head start on holiday shopping."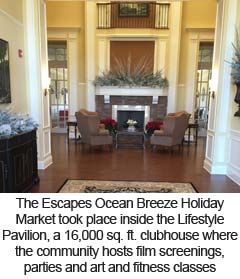 Vendors included Just Bead It, artist Martha Kremer, Touchstone Crystal by Swarovski and Pampered Chef. The market took place at the Escapes Ocean Breeze Lifestyle Pavilion, a 16,000 sq. ft. clubhouse where residents gather to enjoy community events in the grand salon, relax in the pool or sauna, enjoy movies in a screening room or play a game of billiards, tennis or volleyball.
"We really encourage our homeowners to utilize this magnificent space as a place to become part of a vibrant community," added Urgo. "Many people move here from North Jersey and think that Ocean County is not as lively as their former hometowns. There's plenty of culture, art and entertainment within our community and in the surrounding area."
Cultural organizations who were in attendance at the holiday market include Long Beach Island Foundation of Arts & Sciences, which holds art classes and events at its facilities in Long Beach Township, and Lighthouse International Film Festival, which hosts a four-day event each June where local restaurants and museums become venues for screenings and forums.
"Because of Long Beach Island's rich cultural scene, we saw the opportunity to bring arts right into Escapes Ocean Breeze," said Urgo. "We've partnered with local artists to offer classes on anything from beading to painting to our residents." The active adult community also plans to offer music programs and film screenings in the coming year.
This partnership with Long Beach Island's professional artists is part of a lifestyle transformation taking place at Escapes Ocean Breeze. Together with NFC Amenity Management, the community has brought its homeowners rock and roll concerts, car shows, community dinners, holiday parties, movie nights, fitness classes and bus trips to New York City.
"Escapes Ocean Breeze is a thriving, energetic community," added Urgo. "We invite anyone interested in experiencing a new take on active adult living to visit our Information Center and learn more."
Pricing begins in the low $300s. The homes at Escapes Ocean Breeze offer up to 2,693 square feet of living space including two bedrooms, two baths and two-car garages. The Escapes Ocean Breeze Information Center is open daily from 10 am to 5 pm. The Marketing Directors Inc. is the marketing and exclusive sales agent for Escapes Ocean Breeze. For more information about Escapes Ocean Breeze, visit OceanBreezeNJ.com or call 609.698.5540.
«back to press