ASBURY PARK, NJ – Since last August, Liz Morley has been on one long vacation. That's how she describes her lifestyle at North Beach, a community of luxury condominiums in Asbury Park.
"I moved here at the end of last summer," said Morley. "Living here is akin to being on vacation everyday. We are steps from a beautiful beach, the boardwalk is chock full of great restaurants and entertainment and nearby Convention Hall houses the Paramount Theatre and is an Asbury Park landmark."
Located on the north end of Ocean Avenue, North Beach is within a half-mile of several restaurants, including McLoone's, Langosta Lounge and Asbury Oyster Bar. Nightlife and entertainment can be found at nearby Wonder Bar or Porta, both known for their live music sets. The Paramount Theatre has year-round, all-ages shows from local and big name musicians alike.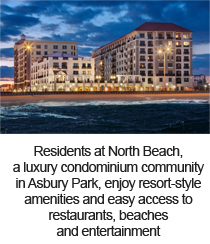 But one of Liz's recent local finds was discovered by her grandchildren. "My grandkids love Asbury Park. They ride their bikes everywhere," she said. "They're crazy about the boardwalk and all the small businesses. The recent North Eats food trucks are a big hit!" Located at Seventh Avenue and the Boardwalk, North Eats consists of a string-lit picnic area surrounded by trucks that serve up everything from blackened mahi mahi with pineapple jalapeño salsa to over-the-top milkshakes, all across the street from North Beach.
Even without stepping foot outside the community, Liz has found plenty of ways to pass her time. Her favorite spot to enjoy is the sundeck, which features a resident-only pool with heated spa, and is described by Liz as the perfect place to meet other residents and find out what's happening in the area.
"Our little community is very friendly," she said, "Our concierges, John and Mark, are the best." All residents enjoy a 24-hour front desk service for securing reservations, receiving packages and guests and making the most of the Asbury Park setting. In addition to the concierge service, North Beach features amenities including indoor parking, individual storage, a fitness center and a residents' lounge that can be used for private events.
Liz chose the single-story Monterey design from the community's offering of oceanfront penthouses and luxury condominiums, which feature up to 2,500 sq. ft. of living space including two bedrooms, 2-3 full baths and ocean-facing terraces in select models. "Ocean views can be found in pretty much every home," said Jacqueline Urgo, President of The Marketing Directors Inc., Marketing and Exclusive Sales Agent for the community. "All of our residents enjoy a piece of the Atlantic Ocean."
Seven homes remain at North Beach. Liz is quick to give a thumbs-up to anyone seeking to join the luxury community. "I consider being a part of the North Beach community a gift," she said. "I would recommend it to anyone who is looking for a laidback lifestyle and beautiful surroundings."
Remaining homes are priced from the $700s. The Marketing Directors Inc. is the marketing and exclusive sales agent for North Beach Asbury Park. For more information about North Beach, call 732.776.6200.